Easter Main Party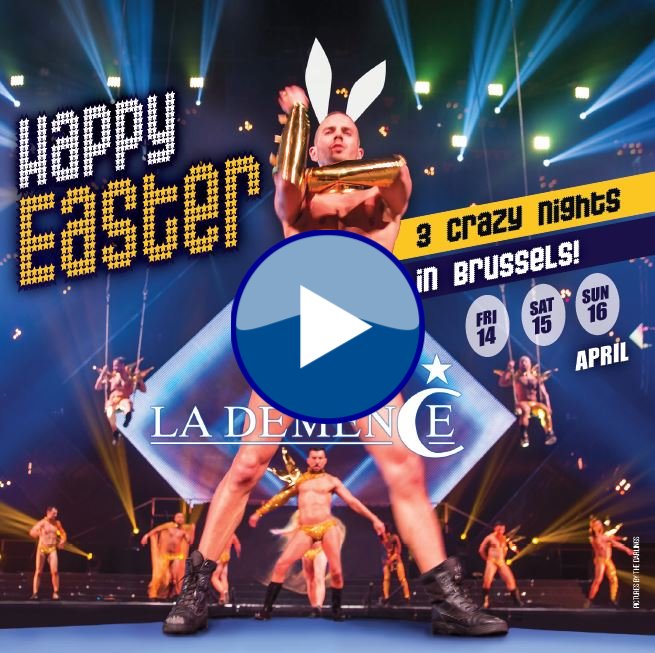 BACK TO PALAIS 12 for a legendary Main Party!
SATURDAY 15 APRIL (21:00 – 08:00)
(first show at 23:00)
Last time attended by 6.500 boys and men from 78 nationalities
Expect the most amazing shows with 65 dancers and acrobats!
Spectacular venue situated underneath the Atomium

DJs
Sebastien Triumph (FR)
Steven Redant (ES)
Pagano (UK)
Chris Bekker (DE)
FACILITIES
Lockers
Big playroom (600 m2)
Food corners
How to get there?
Palais 12, Avenue de Miramarlaan, Brussels
Public transportation
>From city centre (Bourse, De Brouckère, Rogier/ Sheraton): Tram 3 to Esplanade (no service between 00:00 and 05:00)
>From Gare du Midi: Metro 6 to Heysel (no service between 00:00 and 06:00)
>Taxis available at Palais12 to return
By car
Follow "Expo" and Parking E
TICKETS
Friday + Saturday + Sunday  € 90
Friday + Saturday € 70
Saturday + Sunday € 70
Saturday € 50
Discounts for younger than 26 years
No single tickets for Fuse club are available on Friday and Sunday: Fuse has a limited capacity,
so priority is given to persons who want to combine Fuse with the Main Party at Palais 12 on Saturday.
Single tickets for Fuse are available every month except during the 2 party weekends.
There is no guest list during the Easter weekend.
with the support of