30th Anniversary: Closing Party at Fuse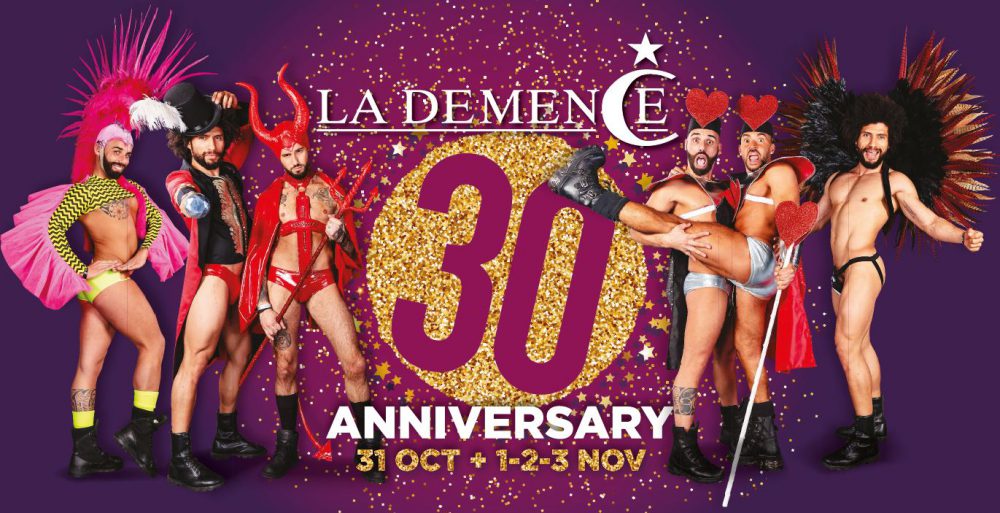 4 party nights in Brussels!
Thursday 31 October : Opening Party at Fuse Club (22h – end)
Friday 1 November : More Party at Fuse club (22h – end)
Saturday 2 November : Main Party at Palais 12 (21h – 08h)
Sunday 3 November : Closing Party at Fuse Club (22h – end)
 DJs
Pagano (UK)
Steven Redant (ES)
Chris Bekker (DE)
Sebastien Triumph (FR)
Paul Heron (UK)
John Dixon (FR)
Ben Manson (FR)
Jon Doe (DE)
Mister Mola (BE)
Dikky Vendetta (NL)
Elias (ES)
Andrei Stan (RO)
Kenne Perry (BE)
Bernard Gavilan (BE)
Jo (BE)
Breizbear (BE)
more TBC
VJ AlexEtJeremy (NL)
Shows by Jean-Marie Desreux (FR)
Thursday € 25
Saturday € 50
Tickets for Friday and Sunday can only be bought
in combination with the Main Party on Saturday
Combi Tickets
Friday + Saturday € 70
Saturday + Sunday € 70
Friday + Saturday + Sunday  € 90
All Parties €110
Discounts for younger than 26 years
DARKROOMS
There will be darkrooms, free condoms and lube at all parties
600 m2 playground at Main Party
Have fun, play safe !
TRAIN FROM PARIS

Start your crazy trip from Paris to LA DEMENCE with IZY trains! Go to www.izy.com and get at least 20% discount, using promo code "2019DEM" at the end of the booking.
Bookable from two months in advance. Offer valid for Standard and Standard XL tariffs only, and until the reduction coupons lasts.
HOTELS
Our 10 partner hotels offer you special rates from €69 and a LATE CHECKOUT at 16h00