Paul Heron (UK)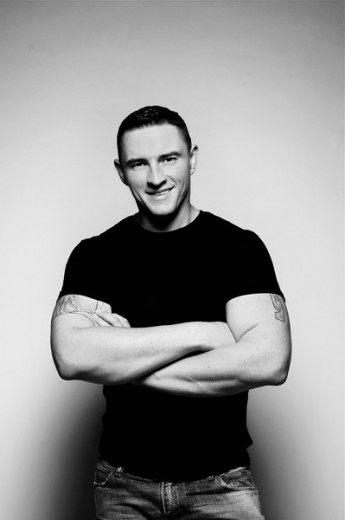 (London, UK)
The past few years have seen La Demence, Fire, Area & Beyond London and world tour resident Paul Heron, break through on the international remix scene – re imagining platinum selling artists Empire of The Sun for EMI, The Scissor Sisters "Fire with Fire", Colton Ford & Ultra Nate for the Peace biscuit label New York, re-editing Grace Jones "Hurricane", The Noisettes "Saturday night", Stonebridges "Take me away" for Hed Kandi, along with also breaking into the South American market playing for Brazil's largest and most reputable club brand The Week!
After just his first performance in Brazil 2010, he was re booked and back on the plane just four weeks later to headline the opening party of The Week's 6th birthday weekend @ Pacha, Sao Paulo,kicking off a three day celebration with Paul and Offer Nissim as the international guests, an experience that he repeated again in 2011 as the closing dj for their 7th anniversary weekend headlining alongside Peter Rauhofer. This year has seen him playing the opening party for The Week in Florianopolis and a triumphant set to 8500 people at Aquaplay Sao Paulo!
Born a Scot but now firmly a Londoner, Paul's name has become synonyms with quality,deep, dirty, pumping, funky tribal and uplifting progressive house.
Living by the musical mantra 'dirty, sexy, fun' he draws upon his 15,000 plus records to create club specific sets that have secured him residencies in the capital's finest clubs such as Fabric's legendary DPTM, Discotech (The End), Action, Juicy, Crash, Beyond, A.M, Orange and Trade @ Ministry of sound, alongside guesting at major nights like Wildfruit, Coco Latte, Universe and various major national and international events, Brands and super clubs, including The Circuit Festival, Space of Sound, Supermarxe, WE party London, Cafe Ole London, XLsoire & Cavo Paradiso (Mykonos) Rapido weekend, Powerzone, The White Party (Amsterdam), Drama (Vienna), Folsom weekend (Berlin), One Mighty Party, Radio 1 Stage ( London Pride), Soho Pride, Europride @ Wonk (Stockholm), infact a host of European Pride events, The Black Party (Zurich), NYE @ FLY (Toronto), Billy (Milan), Le Mix, Queen, Cabaret, Les bains Douches (Paris), Mucassassina (Rome), Propaganda (Moscow) Avalon (NYC) Here (LA), Summer Gay Day (Sydney) Hero Party(New Zealand) Bitch (Johannesburg & Cape Town),Delice (Athens), Yello (Belfast) Space Ibiza world tour (London), Matinee (London) Folsom Berlin, SAVE-FASHION party's Berlin @ SK Robinson & Levee club, Mykonos, Sao Paulo, and playing both the main room and the infamous terrace at the worlds ultimate club Space Ibiza for Cafe Ole!… the list goes on.
In fact since his international debut in Paris aged 18, Paul and his record bag have been clocking up the air miles ever since, spinning from Sydney to San Fransisco, Toronto to Turkey, Switzerland to Slovenia… he has been flown to play in Australia no less than 15 times in the past few years and in just over the last year has topped the bill at Melbourne's Midsummer Festival and headlined Sydney's Harbour Party 2010 and Harbour party 2011 for an unprecedented second year in a row, ARQ Sydney NYE 2010/2011 and Melbourne alongside the Freemasons NYD and received rave reviews for his set at Sydney's last iconic TOY BOX party!
Every summer  performing for Europe's powerhouse party brand La Demence on its The Cruise and this year will be one of the headline djs for the 25th anniversary weekend.
He has taken control of the decks alongside the likes of David Guetta, Offer Nissim, Frankie Knuckles, Boy George, Fatboyslim (Norman Cook), Tom Stephan, Peter Rauhoffer, David Knapp, Tony Moran, Alyson Calagna, Anna Paula, Wally Lopez, Seamus Haji, Mark Doyle (hed-kandi), Pete Tong, Judge Jules, DJ Paulette, William Orbit and Sonique to name but a handful, shared event stages with most notably Mariah Carey, Lady Ga Ga, Gloria Gaynor and Barbra Tucker and played to celebrities including Elton John, Grace Jones, Jake Shears, Dolce & Gabbana & David La Chapelle.
A graduate of the London College of Fashion, Paul's talents are by no means limited to music, with success in art, fashion and photography; Paul has played at parties for haute couture labels such as Dior and designed catwalk soundscapes for many of the world's leading fashion brands.
Anyone who has seen Paul play can testify that his sets are a labour of pure passion energy and love for music! His energy is infectious and his taste, knowledge and respect for music from disco, house to deep and dirty tech is second to none!
Each set is about the connection with the crowd!