Bernard Gavilan (BE)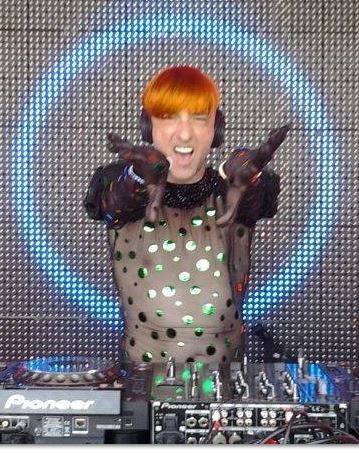 (Brussels, Belgium)
Bernard Gavilan, sometimes more known under the name of "the CHRISTIAN MAN" (the name of his street) in the Nineties, has put his mark on fashion in Brussels.
At the same time visionary, recycler of images and tendencies, destroyer of generally accepted ideas, he unceasingly reinvents looks in search of strong ideas.
Besides that, Bernard owes his fame also to his memorable punk-couture appearances in Brussels night clubs in which he took part since he began in 1994. He did many fashions shows, of which the notorious one from the "Chaussée de Louvain" which gathered 120 models, an elephant and Malcolm MacLaren.
Bernard Gavilan is a respected designer and stylist:
-For the Festival of Science Fiction Movies he was the invited as Designer of Honor and made scarred dolls in life size.
-He worked for cinema also, with the complete styling of a scene filmed in Belgium of the "Guardian angels" with Gerard Depardieu and of the short-film "Walking one the Wild Side" from Abel and Gordon.
-For the advertising industry, he created the dress-capsule for a Perrier campaign.
DJ and singer as well, Bernard Gavilan is also passionate about music.
During the gay pride in Paris in 2003, he sang in front of more than 100.000 people on the Place de la Bastille the song "J'aime regarder les mecs qui marchent sur la plage" which is an underground hit and also used by Sonia Rykiel for the Fashion Week Compilation. Under the "Eskimo" label, he released two tracks: "Culture Club" and "I like it Dirty (sweatshop/feat/polyester)".
Other events as DJ :
– 175th anniversary of DELVAUX leather manufacture in Brussels and Paris
– MAISON MICHEL/Paris
– 15th anniversary Declient in Flanders
– preview of SOFT CELL/2 shows)AB + Gent OPERA
– opening of the museum from the city of Gent
– 40th anniversary from the Leo France company in Florence
– Milan Fashion week /LES HOMMES A/W 2011
– Diesel Brussels/Antwerp
– Hermès Brussels/Rotterdam
– Villa Eugénie
– TomorrowLand Festival 10 years
– Le châlet dans la forêt (2* Michelin)
– Dandoy
– Ghent Ville
– Knokke Fashion Week
– La Démence
– Blacklight partys/Ghent/Culture Club
In 2006, he created the 1st contest "Customisez-moi" which gradually took its seat in the Belgian fashion scene. To summarize, it is a new vision on fashion and Bernard has with his unusual personality the ambition to create a more fun world.
Bernardgavilansince1994FB